Web․Developer Pro is the fastest way to create and run websites on Windows
Web.Developer Pro is a website development and hosting application with Apache 2.4, PHP 8 and 7, and MySQL 8.

Create and run websites on Windows after a simple, quick installation.

Professional-Grade
Fully-Supported
Secured and Hardened
Performance Optimized
Modular and Clean

Now with support for PHP 8!

For Windows 10 (and Server 2019) +.

☆ Web.Developer Pro does not collect any information about your websites, requires no sign in, and never reports to a server.
---

Installs Under 1 Minute - Ready to Run - No Manual Required - Self-Contained

Quick Installation

✓

Web.Developer Pro is quick to install and even quicker to uninstall. In under 1 minute.

Fast Websites

✓

Web.Developer Pro creates websites faster than all other platforms combined. Type in a domain name... done.

Privacy Aware

✓

Web.Developer Pro does not collect any information about your websites.

Easy Updates

✓

Web.Developer Pro updates Apache, PHP, and MySQL versions with a click.

PHP 8 Ready

✓

Web.Developer Pro is PHP 8 ready ahead of everyone else.

Simple Structure

✓

Web.Developer Pro keeps everything simple and contained in 2 folders: \Websites + \Database

Zero Mess

✓

Web.Developer Pro makes no modifications to your system.

Finely Tuned

✓

Web.Developer Pro is fully configured with optimal settings. From the start.

No Forced Upgrades

✓

Web.Developer Pro does not force upgrades... Keep using what you have downloaded.
---
☆ ☆ ☆ ☆ ☆
---
Download Web.Developer Pro




Buy Web.Developer Pro ($125.95)
---
☆ ☆ ☆ ☆ ☆
---
Latest Version:
WebDeveloper-6.8.6-4.zip | Released May 20, 2022 | (ZIP file, 253MB)
With Apache 2.4.53, PHP 8.0.19 and PHP 7.4.29, MySQL 8.0.29, phpMyAdmin 5.2.0 (all languages), cURL 7.83
With Xdebug, Ioncube Loader, ImageMagick, SqlSrv, and PHP Opcache
Compatible with:
Windows 10 and Windows Server 2019, 2016, 2012 (64 bit) +
Requirements:
1.5GB free space, .NET 4.5.2 or higher (present on all current and updated Windows versions)
Installation Instructions:
The zip file contains folder "WebDeveloper", copy this folder to C:\ (or to the root of any drive). Forming C:\WebDeveloper.
Run file C:\WebDeveloper\WebDeveloper.exe, click the "Run Installation Tasks" button, when the process is finished, the Apache and MySQL Services should have already started and you should be able to create and run websites.
Some firewall software and anti-malware applications might have the Windows HOSTS file (C:\Windows\System32\Drivers\etc\hosts) locked. If the installation fails on the Hosts File Check step, add this file path to the app's Exclusion List or disable the lock feature in its settings.
---
Hosting Websites
For Local development
Web.Developer Pro is fully set and nothing more is required.
For Website hosting (and Production use)
To allow incoming web requests, remove all existing "Apache HTTP Server" rules in Windows Firewall, create a rule that allows incoming TCP Port 80 and Port 443 requests (HTTP and HTTPS ports), and update DNS records with the Registrar for your domain names to point to the server's public IP address.
For Hosting from home
To route incoming web requests, set your router to forward ports 80 and 443 to the server's LAN IP, reserve that LAN IP for the server, and set Dynamic DNS (or use a DDNS client) if you have a non-static internet IP address.
---
Backup and Restore
How to Backup Web.Developer Pro
Stop Apache and MySQL, make a zip of the WebDeveloper folder. Make sure MySQL is not running or the DB files in the zip will be corrupt.
How to Restore Web.Developer Pro
When unzipped and ran, Web.Developer Pro will re-install itself from the above state with all the websites and DBs present.
* After unzipping, but before running the installation, delete everything in folder: \Components, and delete folder: \Database\mysql-data. These are "links" (NTFS "junction points") to the actual versions of the components that are in folder \Versions, and the actual database files that are in folder \Database\mysql-data-<version>. Some zip programs will make hard-copies of these links and turn them into a double of the folder files they are linking, which will make the installation fail.
* If Web.Developer Pro was not uninstalled, but only replaced by a backup, no re-installation is required... In Components tab, select your Apache and MySQL versions, and reinstall the Services.
---
Support
Email support@devside.net. For technical support, include a screenshot of the issue, and attach files install-log.txt and exceptions-log.txt.
---
Product Guarantee
Purchase of the product comes with a 30 day money back guarantee - no questions asked. Email support to receive a refund.
If after purchase you have not received (within 24 hours) an email with a Serial Number / Key for the product: check your Spam (or Junk) folder, and contact support.
---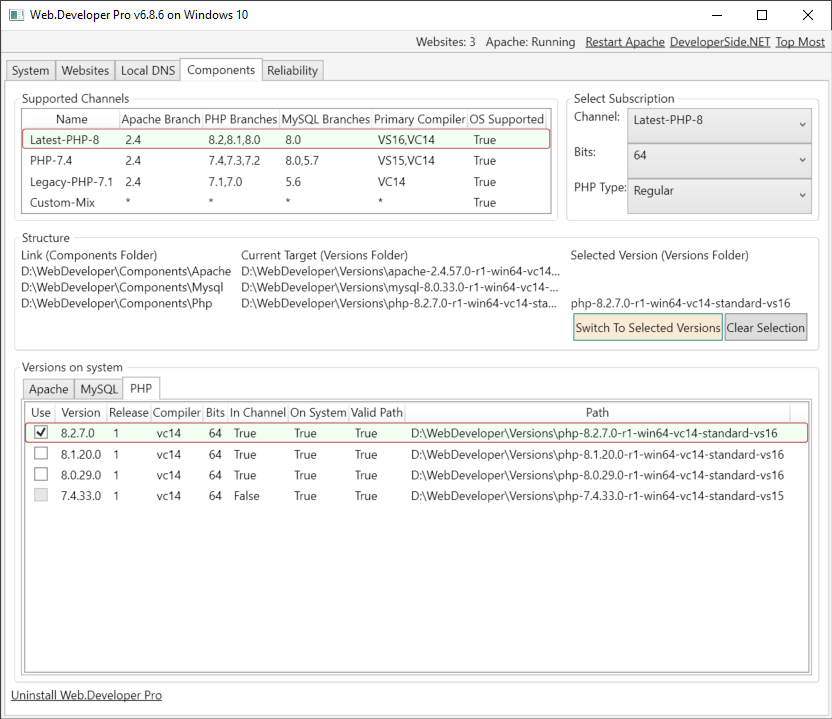 ---